Mary Baker Art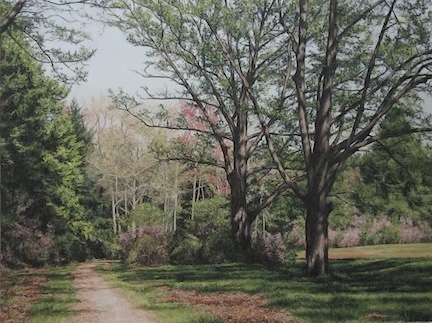 Pathway at Maudslay © Mary Baker, Oil on Canvas, 36" x 48" (private collection)
"A contemporary realist painter, she captures, with lifelike precision, the stillness of the Plum Island marshes, the petals of a bright yellow iris in the South End, apple blossoms clinging to a brick wall at the old gardens at Maudslay State Park and the Common Pasture, its vista unchanged by centuries."
"Putting things in perspective," by Ulrika G. Gerth, The Newburyport Current
Mary Baker is a contemporary realist painter whose studio is in Newburyport, Massachusetts. This New England city, north of Boston, with its gardens, flowers, landscape, historic neighborhoods and antique houses, has been the inspiration for the artist's realistic oil paintings.
Mary's art work has passion, depth and beauty, capturing moments in time. Her art work has the power to inspire lives and to nourish and enhance the spirit. You will find Mary's evocative, compelling and beautiful paintings not only on the Gallery page, but also on every page of her website.
Mary Baker's skilled, tasteful and perceptive art work is for the discriminating buyer.
To learn more about the artist, please visit the About page. For a detailed biography press here. A sample of the prices of Mary Baker's art work can be found on the For Sale pages of her Art Blog. Please feel free to contact Mary about the artwork, prices--information about buying a Mary Baker painting.
The Newburyport Blog
The charming, historic seaport city of Newburyport, Massachusetts has played an important role in the artist's life as well as her artwork. And Mary has a long running blog about Newburyport, the city that she loves so much, which she has been writing since January of 2006, called The Newburyport Blog which can be read here .
New Digital Artwork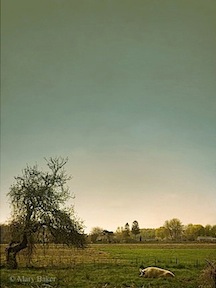 Mary has been working on a new body of work that combines digital art and prismacolor, a waxed based colored pencil. The images are printed with pigment prints on acid free, watercolor paper, and then Mary goes over the image with prismacolor to create a vibrant color and even more detail. This is a work/project in progress. Mary started experimenting with this new digital endeavor in December of 2012.
The process and progress of the new digital-prismacolor art work can be found both on her Mary Baker Art Facebook Page, as well as on her Art Blog. The digital image above, "Pig and Apple Tree" is 9" x 12" and is not finished, it is a DRAFT.
Mobile Website
Mary Baker Art has a mobile friendly site. For the mobile friendly site version of Mary Baker Art please press here.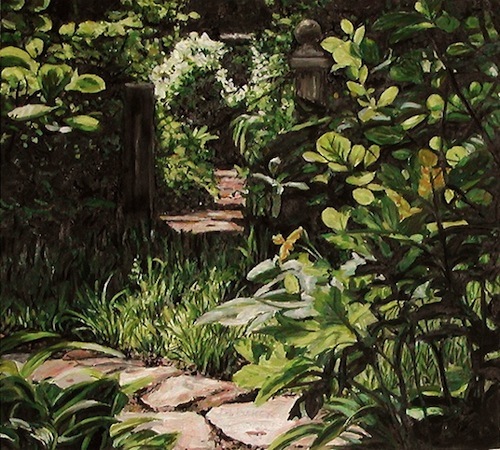 Garden 1 © Mary Baker, Oil on Paper, 6.5" x 7.5"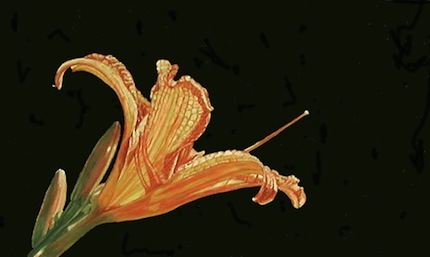 Day Lily © Mary Baker, Oil on Paper, 9" x 18"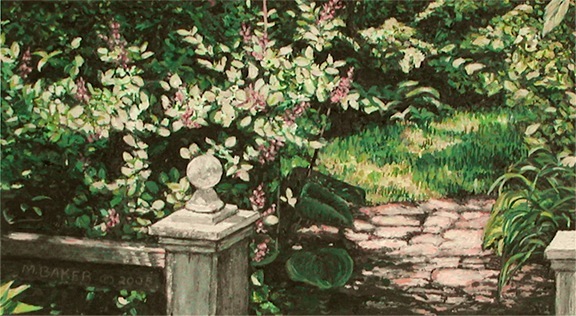 Garden 2 © Mary Baker, Oil on Paper, 5" x 10"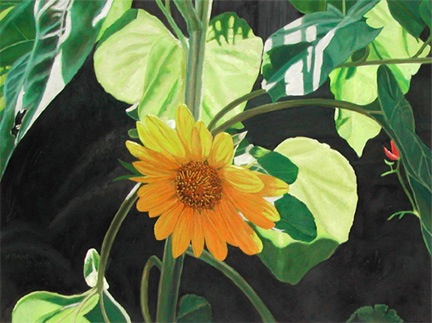 Sunflower 2 © Mary Baker, Oil on Canvas, 18" x 24"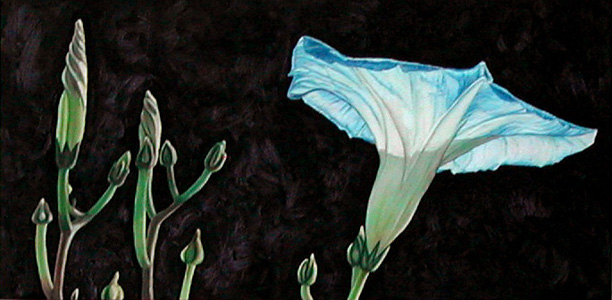 Blue Morning Glory © Mary Baker, Oil on Panel, 24" x 12"